Innovation Day
Was ist innovative Nachhaltigkeit? Innovation sind unverzichtbar, um die Klima- und Naturkrise zu bewältigen, und nachhaltiges Wirtschaften zu ermöglichen. Doch Innovationen bedarf Neugier, Kreativität und vieler
kluger Köpfe. So entstand die Idee der Veranstaltungsreihe "Co-Creation Advisory Board for Sustainability" zu deren Abschlussveranstaltung wir Sie für den 16.Mai 2023 herzlich einladen.
Die Nachhaltigkeitsreise startete mit dem Inspiration Day, hier wurden die aktuellen Herausforderungen zum Thema Nachhaltigkeit diskutiert und die Top-Herausforderungen festgelegt. Das Co-Creation Advisory Board, bestehend aus Unternehmen verschiedener Branchen, Experten und Partnern hat sich diesen angenommen und erarbeitet seitdem passende Lösungsansätze. Diese werden Ihnen am 16.Mai im Rahmen des Innovation Day vorgestellt.
Was erwartet Sie am Innovation Day?
Lassen

Sie sich von inspirierenden Vorträgen u.a. von Intel und AWS begeistern

Lernen Sie Lösungen von heute kennen z.B. von der Deutschen Telekom und Partner

Testen Sie die Lösungen von morgen und erforschen Sie die Ergebnisse und Prototypen des Co-Creation Advisory Boards

Tauschen Sie sich mit den Experten aus und wählen Sie Ihren Lieblingsprototypen
Interesse? Sichern Sie jetzt Ihren Platz für unser Event in Bonn.
Ein besonderes Highlight unserer Co-Creation Eventserie sind unsere "Experience Sharing Sessions" hierzu möchten wir Sie gerne einladen.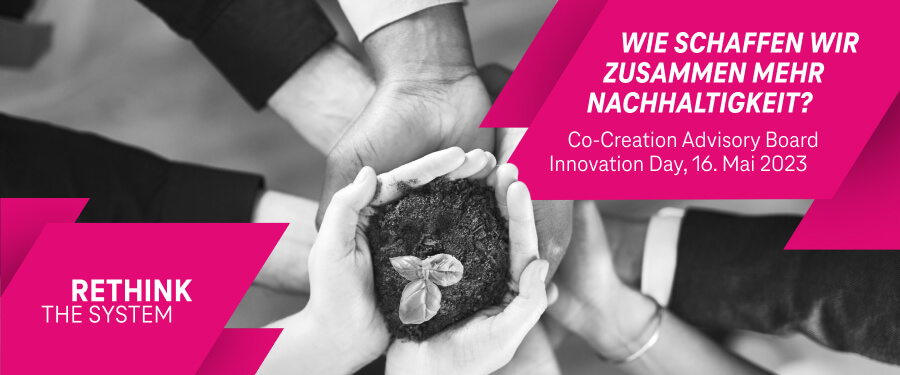 Partner:

---
Innovation Day
Sustainable innovation is a necessity for all enterprises to tackle today's climate and nature crisis. However, innovations require curiosity, creativity, and many smart minds to come together to lead and inspire. This is how the idea for the event series "Co-Creation Advisory Board for Sustainability" was born, and we warmly invite you to the closing event on May 16th, 2023.
The sustainability journey started with the Inspiration Day, where current sustainability challenges were discussed, and the top challenges were identified. The built up on the solutions was held during the "Ideation day" held on 20th April where The Co-Creation Advisory Board for Sustainability, consisting of companies from different industries, experts, and partners, has taken up these challenges and turned them into viable solutions. These solutions will be presented to you on May 16th as part of the Innovation Day.
What can you expect on the Innovation Day?
Be inspired by inspiring speeches, among others, from Intel and AWS

Get to know today's solutions, e.g., from Deutsche Telekom and partners

Test the solutions of tomorrow and explore the results and prototypes of the Co-Creation Advisory Board

Exchange ideas with experts and choose your favorite prototype
Interested? Secure your place for our event in Bonn now.
A special highlight of our Co-Creation event series are our "Experience Sharing Sessions" - we would like to invite you to participate.
 partner:

Innovation Day
Anmeldeseite für Innovation Day
T-Systems OrgaTeampu_ds_marketing@vli.t-systems.com
T-Systems OrgaTeampu_ds_marketing@vli.t-systems.comhttps://event.telekom.com/innovation_day
2023-05-16
2023-05-16
OfflineEventAttendanceMode
EventScheduled
Innovation DayInnovation Day0.00EUROnlineOnly2019-01-01T00:00:00Z
Deutsche Telekom AGDeutsche Telekom AGLandgrabenweg 151 53227 Bonn Deutschland