Future Telco Talks
Reality Check for Telco Cloudification
Telco Cloudification is becoming a significant challenge for many organizations as the telekom industry is well on its way to completely moving to the cloud for maximum operational efficiency and service flexibility. Thus, it is imperative for organizations to do a Reality Check on this journey in order to strike the right balance, maintain control over value creation, reap the benefits at next level, and keep up with technological advancement.
Join us on 15.6.2023 at 18:00 at Bonn, Friedrich-Ebert-Allee, Plaza for fresh insights and perspectives on Telco Cloudification. At the event, experts from Deutsche Telekom (Stefan Krämer - DT Technik), Consulting (Stefan Schnitter - Detecon), Hyperscaler (Kaushik Bhattacharya - Google), IT-Provider (Bernd Ludwig - T-Systems), and Science (Prof. Frank H.P. Fitzek - TU-Dresden) will present their viewpoints on the cloud transformation. Listen and take part in engaging discussions and get a chance to network with fellow industry professionals.
Don't miss out on this opportunity to gain invaluable know-how and make valuable connections at the event.
Register Now.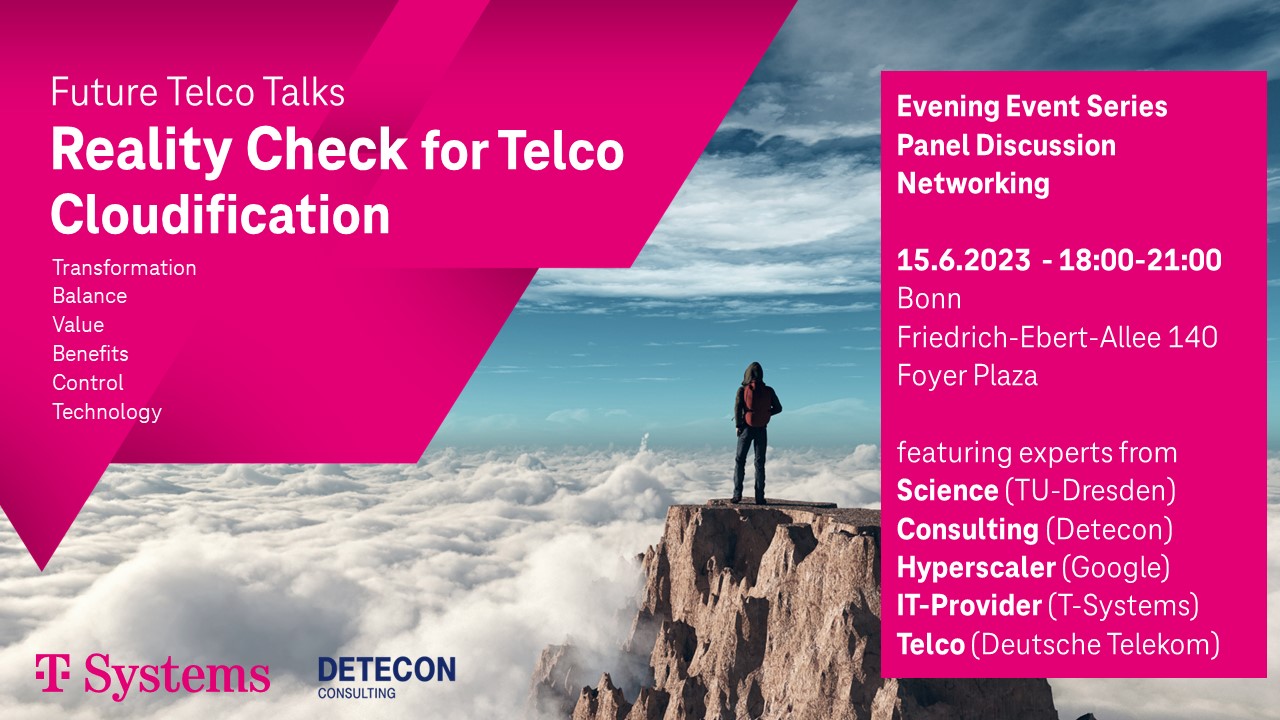 Future Telco Talks
Registration website for Future Telco Talks
Future Telco Talksfuturetelcotalks@t-systems.com
Future Telco Talksfuturetelcotalks@t-systems.comhttps://event.telekom.com/future_telco_talks
2023-06-15
2023-06-15
OfflineEventAttendanceMode
EventScheduled
Future Telco TalksFuture Telco Talks0.00EUROnlineOnly2019-01-01T00:00:00Z
Deutsche Telekom headquarters - Foyer PlazaDeutsche Telekom headquarters - Foyer PlazaFriedrich-Ebert-Allee 140 53113 Bonn Germany