Co-Creation Advisory Board
Enterprises today cannot ignore sustainability when they think of corporate strategy and social responsibility. Sustainability is multi-layered and affects all company areas and business processes, as people, objects, and machines are interconnected in a digitalized world. However, creative and sustainable ideas need inspiration, and ways to find ideas and innovations. This thought inspired us to introduce a novel event format known as the "Co-Creation Advisory Board for Sustainability". 
It's a three-part event series and kicking off with the  "Inspiration Day" on March 7. Here, participants will receive valuable impulses on current and future challenges. As an active participant, you become part of the discussions and determine the "top challenges". Finally, the Inspiration Day is rounded off by the announcement of the selected topics and the awarding of the "Sustainability Evangelist Award" to the participants.
Register now.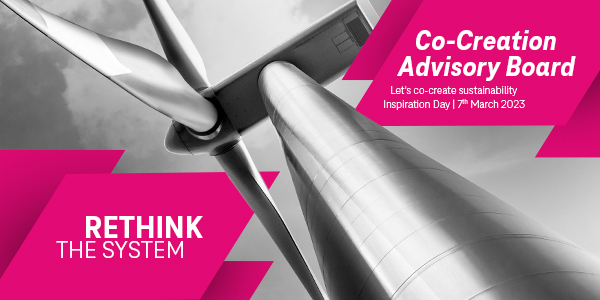 Co-Creation Advisory Board EN
Registration website for Co-Creation Advisory Board EN
T-Systems OrgaTeampu_ds_marketing@vli.t-systems.com
T-Systems OrgaTeampu_ds_marketing@vli.t-systems.comhttps://event.telekom.com/cocreation_en
2023-03-07
2023-03-07
OfflineEventAttendanceMode
EventScheduled
Co-Creation Advisory Board ENCo-Creation Advisory Board EN0.00EUROnlineOnly2019-01-01T00:00:00Z
Zentrale Deutsche Telekom AGZentrale Deutsche Telekom AGFriedrich-Ebert-Allee 140 53113 Bonn Germany