Co-Creation Advisory Board
Bei unserer Auftaktveranstaltung am Inspiration Day hatten Sie erste Gelegenheit sich mit uns zu den Top-Herausforderungen zum Thema Nachhaltigkeit auszutauschen. Nun sind Sie gefragt! Werden Sie Teil unseres Co-Creation Advisory Boards und begeben Sie sich gemeinsam mit anderen Mitgliedern, Partnern und Experten auf eine mehrwöchige Reise und entwickeln Sie gemeinsam Ideen und Lösungsansätze.
Sichern Sie sich jetzt Ihren Platz oder registrieren Sie Ihre Kollegen/Fachverantwortlichen und werden Sie Teil unserer Crew.
Jetzt bis zum 13.3. Chance nutzen und anmelden.
Hier finden Sie weitere Informationen zum Arbeitsvolumen: Flyer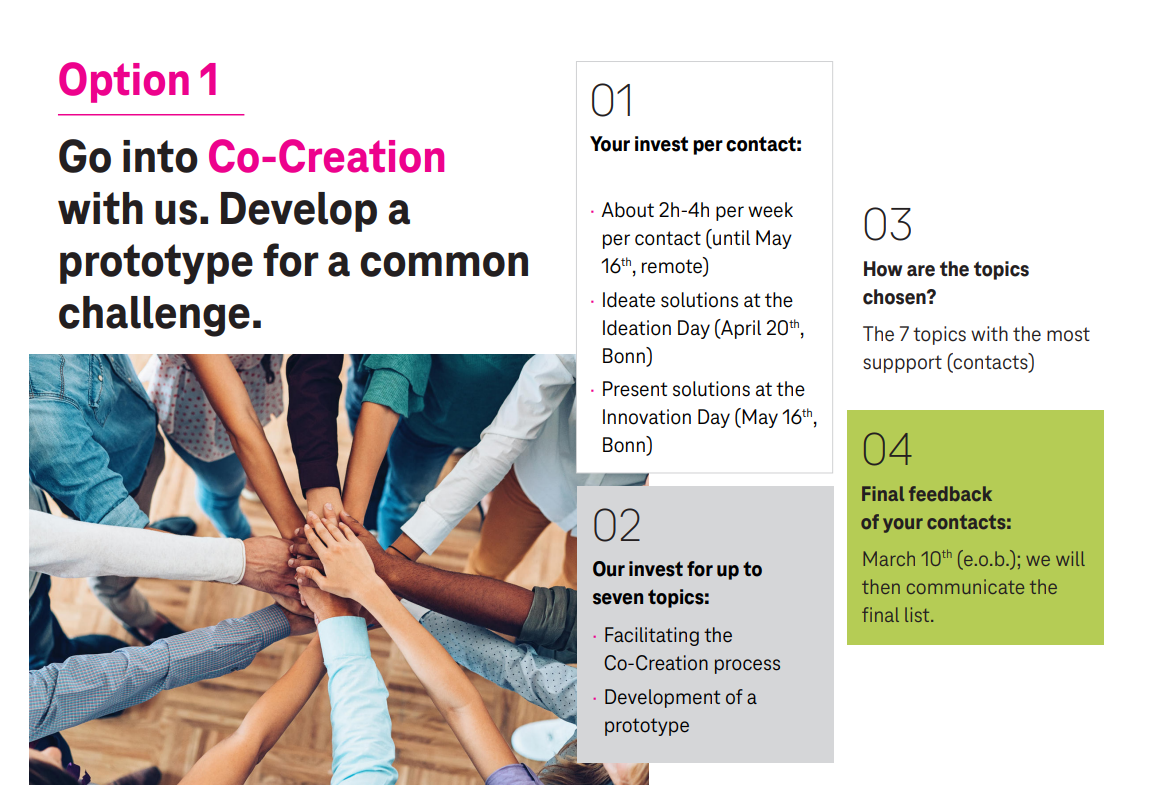 Bei Rückfragen wenden Sie sich bitte an: Stephan de Haas (Head of Co-Creation, T-Systems International GmbH, Mail: stephan.de-haas@t-systems.com)
---
Co-Creation Advisory Board
At our kick-off event on Inspiration Day you had your first opportunity to exchange views with us on the top sustainability challenges. Now it's your turn! Become part of our Co-Creation Advisory Board and embark on a multi-week journey with other members, partners and experts to develop ideas and solutions together.
Secure your place now or register your colleagues/experts and become part of our crew.
Take advantage of the opportunity and register now until 13.3.
Here you can find more information about the work volume: Flyer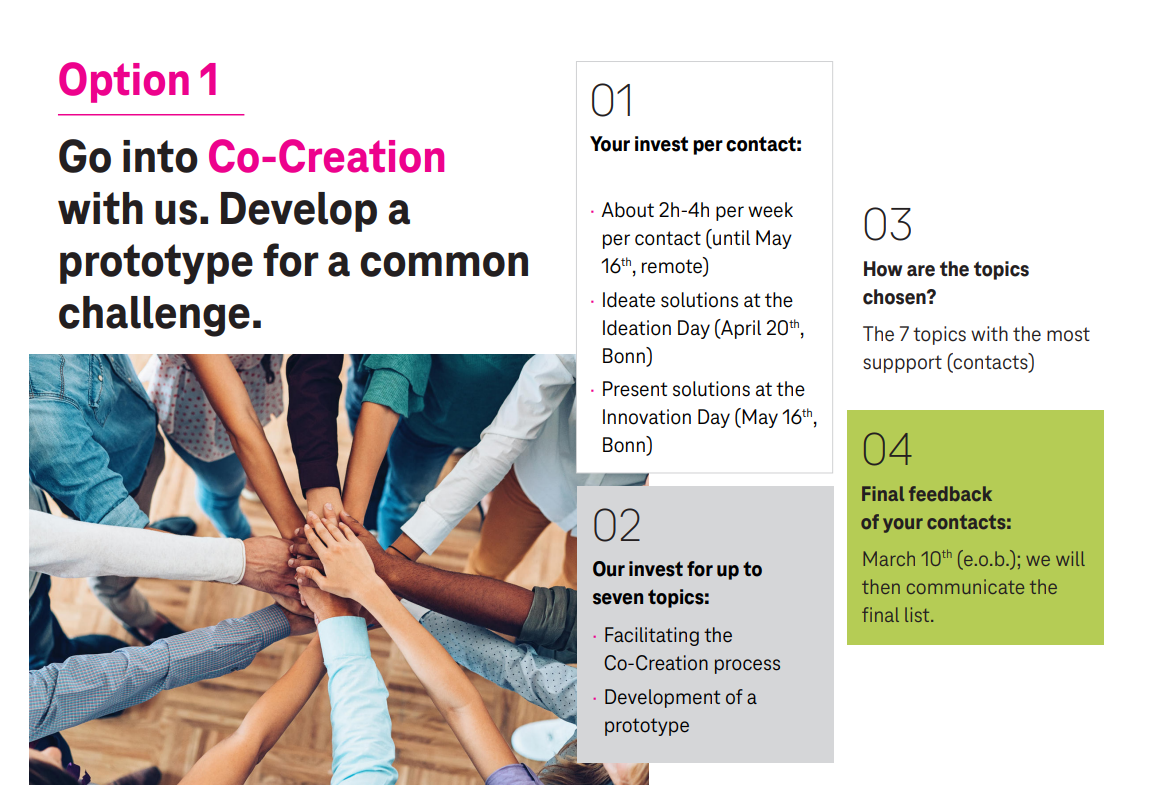 If you have any questions, please contact: Stephan de Haas (Head of Co-Creation, T-Systems International GmbH, Mail: stephan.de-haas@t-systems.com)
Co-Creation Advisory Board Anmeldung Abfrage
Anmeldeseite für Co-Creation Advisory Board Anmeldung Abfrage
T-Systems OrgaTeampu_ds_marketing@vli.t-systems.com
T-Systems OrgaTeampu_ds_marketing@vli.t-systems.comhttps://event.telekom.com/cocreation_anmeldung
2023-03-22
2023-03-22
OfflineEventAttendanceMode
EventScheduled
Co-Creation Advisory Board Anmeldung AbfrageCo-Creation Advisory Board Anmeldung Abfrage0.00EUROnlineOnly2019-01-01T00:00:00Z
Noch nicht bekannt
Noch nicht bekannt